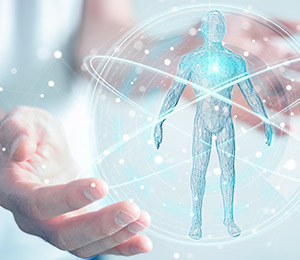 Diagnostic apheresis for discovery, isolation and quantification of circulating tumour stem cells
Diagnostic apheresis
Diagnostic apheresis serves fine diagnosis and preparation of cancer treatment. Diagnostic apheresis can discover, isolate and quantify circulating tumour stem cells. Molecular characterisation of these cells permits statements on organ specificity, aggressiveness, chemo- and radiation resistances or reaction to specific medicines. Diagnostic apheresis is able to document oncoproteins or biomarkers that are as relevant for the prognosis as for planning treatments. This is of benefit in particular when it is not possible to identify the primary tumour. This method is suitable for early recognition, for exclusion of metastases and for progress control.
The lab practice clinic GbR Dr. Kübler & Partner has a patented early recognition technology in order to isolate circulating tumour stem cells from the veins. Cancer is a disease of uncontrollable stem cells that developed years before a primary tumour or even metastases could be found. If treatment is necessary, it can commence at the earliest possible time thanks to this method. Monitoring of the reducing tumour stem cell number enables us to review success of the therapeutic measures.
How does the diagnosis method apheresis work?
Isolation of tumour stem cells circulating in the veins by apheresis takes place under standardised physical parameters. The apheresis machines are certified according to the TÜV and medical devices act. They are performed according to defined cycles. Collection takes about 1.5 hours during which the patient can lie down. A venous access is placed and the needle is connected to a tube system. The apheretically acquired cells are divided into various fractions by a density gradient. Thereafter, the relevant cells are washed several times until the desired degree of purity is achieved. A specially developed test that permits individual evidence, various molecular biomarkers is used to produce an expression profile of the character of the circulating tumour stem cells. By concurrent application of FISH analysis (fluorescence in situ hybridisation), it is possible to document the degree of damage of the amplification of genes, e.g. erb/B-2, C-Met of the tumour stem cells.
Diagnostic apheresis permits the acquisition of tumour stem cells from the blood without biopsy. These cells can then be examined for specific cancer antigens and their metastasis formation potential outside of the body.
The advantages of diagnostic apheresis:
Gentle, biopsy-free, diagnostics
Early recognition of cancer, in part before the primary tumour is visible in imaging procedures
Molecular quantification and qualification of the circulating tumour stem cells
Possible organ assignment of the tumour stem cells
Recognition of the metastasis formation potential of the tumour stem cells
Customised treatment planning according to the individual symptoms of the disease
Progress review: Monitoring of the tumour stem cell count

Die Anzahl und die Präzision, mit der wir in unserem Münchner Labor Aminosäuren, Mineralstoffe, Vitamine und intrazelluläre Erreger bestimmen, ist einzigartig.

Unser Konzept bündelt konventionelle und alternative Verfahren. Die Apheresen sind ein wichtiger diagnostischer und therapeutischer Baustein unserer integrativen Medizin.

Durch die Vermehrung körpereigener Killerzellen aktivieren wir das Immunsystem targetspezifisch. Unter anderem zur Behandlung von Krebs und Virus-Erkrankungen.