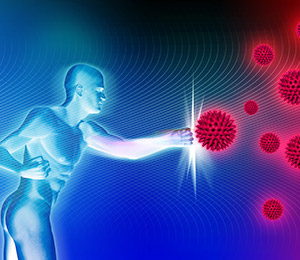 Extracorporeal photopheresis
Extracorporeal photopheresis
Light therapy in immune regulation interferences.
T-cell leukaemia, scleroderma and specific autoimmune diseases all have in common that derailed endogenous lymphocytes attack the patient's health. Extracorporeal photopheresis is a very gentle procedure here that deactivates these aggressive lymphocytes outside of the body.
Apheresis methods collect the patients' lymphocytes and isolate them from the remaining parts of their blood. The lymphocytes are prepared in order to react sensitively to light. Subsequently the diseased cells will be "exposed" to light of a specific wavelength (medical UV-A light). In contrast to many other treatments, healthy cells are not destroyed by this and photopheresis is easily compatible. The body is cleared of misinformation "extra-corporally" and healthy self-healing forces are stimulated. The treated lymphocytes are retuned into the patient's blood. The previously aggressive lymphocytes are not only inactivated, but can also emit their immunological information to healthy lymphocytes that have remained cooperative, thereby enabling them to recognise and fight aggressive lymphocytes in the future.
Indications.
Among others:
Progressive systemic scleroderma
T-cell leukaemia
T-cell dependent diseases
Systemic Lupus erythematosus
Crohn's disease
Autoimmune diabetes
Graft versus host disease
Pemphigus vulgaris
Rheumatoid arthritis
B-cell leukaemia
Colitis ulcerosa

The amount and precision or our measurements of amino acids, minerals, vitamins, and pathogens in our Munich lab is unique.

Our concept combines conventional and alternative methods. Apheresis procedures are an important diagnostic and therapeutic component of our integrative medicine.

By multiplying the body's own killer cells we activate the immune system target specific. Among other things for the treatment of cancer and viral diseases.